STUDENTS: GRLS WKND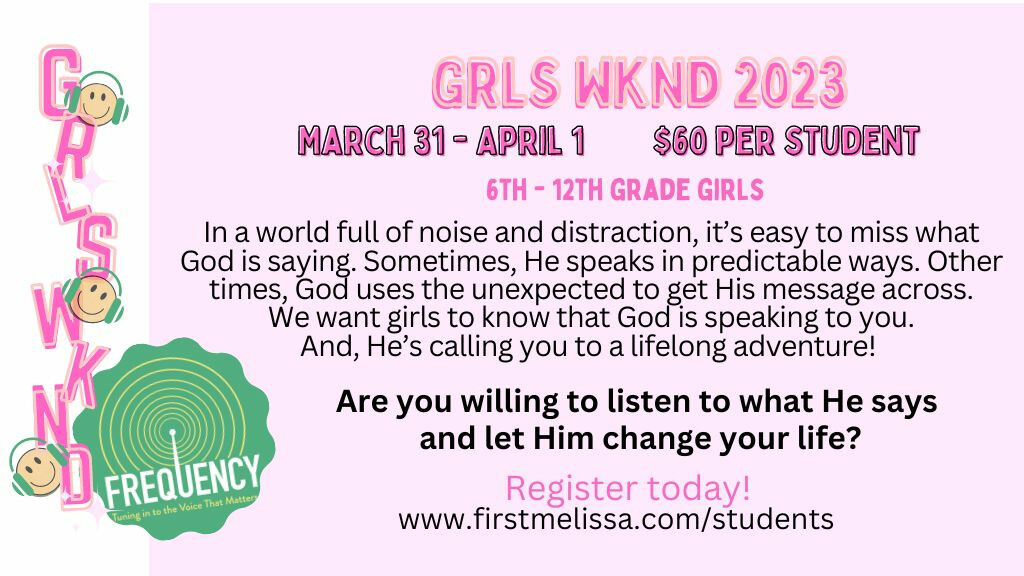 GRLS WKND 2023
In a world full of noise and distraction, it's easy to miss what God is saying. Sometimes, He speaks in predictable ways. Other times, God uses the unexpected to get His message across. We want girls to know that God is speaking to you. And, He's calling you to a lifelong adventure!
ARE YOU WILLING TO LISTEN TO WHAT HE SAYS AND LET HIM CHANGE YOUR LIFE?
GRLS WKND will be hosted entirely on campus at First Melissa and consist of fun theme night, games, worship, lessons, and discussion. The cost per girl is $60 and covers food, curriculum, t-shirt, and more. If you have any questions, please reach out to the Event Leader - Kenzie Ogea (mackenzieogea@gmail.com | (903.486.7266) or the Minister to Students - Tyler Normand (tnormand@firstmelissa.com | (903.941.2990). REGISTER BY CLICKING HERE!