Our passion is to equip women to become fully devoted disciples of Jesus, connecting them to other women in meaningful relationships while living passionate lives with the intention of reaching others with God's love.

Christmas Grateful Gathering!
SUNDAY, DECEMBER 10, at 5:30 PM
Ladies of First Melissa Church! We warmly invite you to our "Christmas Grateful Gathering" on Sunday, December 10th at 5:30 pm, located in The Cafe, Building B. This special event features a Christmas ornament exchange, so please bring an ornament to share. We will also enjoy a tasty nacho bar, a meaningful devotional, and a chance to connect with friends. The cost is $5 per person. Looking forward to a wonderful evening of fellowship with you all!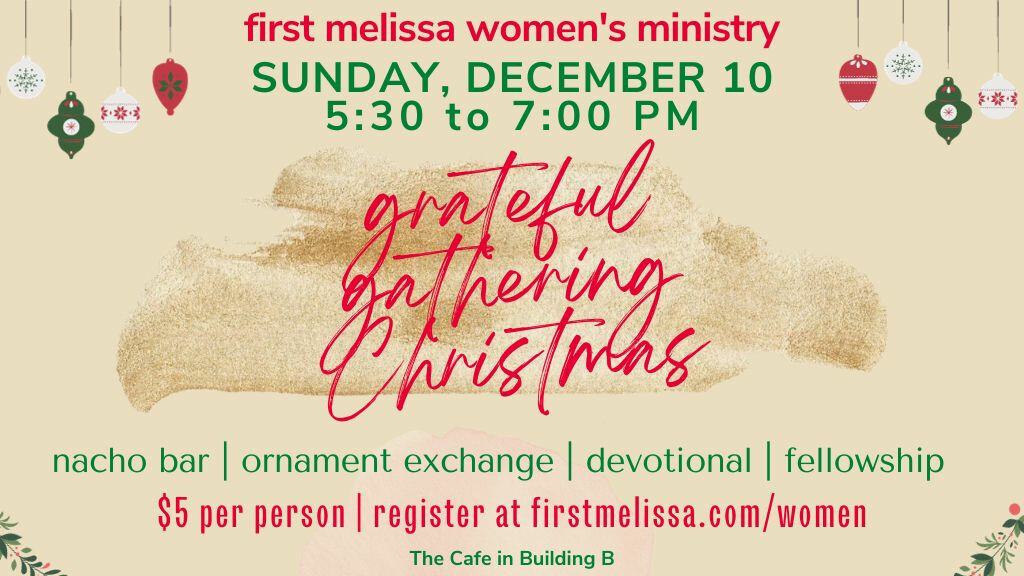 Thursday Morning Women's Bible Study
Women's Bible Study meets on Thursday mornings at 9:30 am in Room 202, Building A. You are welcome to join our women's Bible studies at any time, and no registration is required. Please note childcare is NOT provided.
For more information, email Jill Huddle at .

Grateful Gathering
Grateful Gathering is an event that brings the women of First Melissa together to fellowship, worship, laugh, and have fun! Being women, we NEED to gather together because we need each other!